Tracy Schwegmann was elected Sycamore Township Trustee in November 2021. As the first woman ever elected to serve the Sycamore community as Trustee, Tracy looks forward to serving the Township residents and businesses through supporting great neighborhoods, advancing the growth of walkable communities, and fostering a robust business district.
Tracy is a Sycamore Community Schools "lifer" (K-12), and a forever-proud Aviator. She has resided in the Township since 2005, having lived in both the northern and southern parts of the Township. Applying her knowledge of both parts of Sycamore Township, along with her business background, she was honored to serve on the Sycamore Township Land Use Steering Committee from 2018-2021.
Tracy has been employed by Jeffrey R. Anderson Real Estate, Inc. since 2001, where she serves as Director of Marketing and Asset Management. Her current portfolio of responsibilities include overseeing management and strategic initiatives for The Banks project in Downtown Cincinnati, as well as marketing endeavors for the company-owned Florida retail properties. In addition to out-of-state developments, she has overseen the successful opening of local marquee development projects including Crestview Hills Town Center and the various Rookwood properties.
Prior to her tenure at Anderson, Ms. Schwegmann held positions with the Greater Cincinnati Convention & Visitors Bureau and Downtown Cincinnati, Inc. Tracy holds an MBA from Xavier University and a B.A. in Journalism from NKU. She is a former president of the NKU Alumni Board of Directors and is a current member of the NKU Foundation Board, serving on the Governance/Membership and Real Estate Committees. Additional notable community/board activities include service on the Sycamore Township Land Use Steering Committee & Hamilton County Tax Incentive Review Council. In 2022, she was nominated to serve on the OneOhio Recovery Foundation, and was honored with the Distinguished Service Award by NKU.
Tom Weidman has been an active public servant, in Sycamore Township and throughout the Greater Cincinnati area, for almost 30 years.
A resident of the Township since 1985, Tom was appointed to the Township Planning and Zoning Commission in 1994, and later appointed to the Township Land Use Plan Committee. In 1999, the residents of the Township voted to end county zoning and create a Township Zoning department. Tom became the first Chairman of the newly-created Board of Zoning Appeals, a position he held until his election to the Board of Trustees in 2006.
During his initial campaign, Tom promised that his very first order of business as Trustee would be to pass enhanced notification rules for all sex offenders that move into our community. Tom said that "Knowledge is power and we must empower our residents with the knowledge they need to protect their families". Tom worked closely with Hamilton County Prosecutor, Joe Deters, and former Hamilton County Sheriff, Simon Leis, to insure that his proposal met all legal tests. At his first meeting as a Trustee on January 5th, 2006, his fellow trustees agreed with Tom, making Sycamore Township sex offender notification rules the strictest of any community in Ohio . The Board subsequently passed a Residential Restriction Resolution prohibiting registered sex offenders from moving within 1,000 feet of churches, schools parks, and many other places in the township where children congregate.
Tom believes that by keeping our Kenwood Retail District new and cutting edge, we increase property values for all Sycamore Township residents. He recognizes that our Kenwood Retail District is the "Crown Jewel" of retail in all of southern Ohio, and he is totally committed to the continued re-development and re-vitalization of the entire Kenwood shopping area.
Tom has also led and won many fights on behalf of Township residents against proposed commercial developments that encroached into residential neighborhoods, but no victory was greater than the fight to prevent a Target Superstore in Blue Ash from developing in the backyards of our Dillonvale residents. Tom has always worked hard to find the balance between Commercial and Residential properties to allow both to co-exist. Economic development helps keep residential township taxes low. That is why Sycamore Township has the lowest township property taxes of any township in Hamilton County.
When Cincinnati Waterworks tried to raise the cost of water for all townships in Hamilton County by an additional 18%, Tom went to court and got a temporary restraining order against CWW prohibiting the price increase. Tom subsequently negotiated with the Cincinnati Mayor on behalf of all of the Hamilton County townships, a new 50 year contract at the same pricing formula that townships had been paying for the last 30 years. This will insure long term pricing stability for all of our township residents.
Besides serving the residents of Sycamore Township as Trustee, Tom also serves the public on the following Boards:
**Sycamore Township Community Improvement Corporation (501c3) member 2012
**Sycamore Township 4 Joint Economic Development Zones – President since 2012
**Hamilton County Township Association – President since 2008
**Cincinnati Metropolitan Housing Authority – Member of the Board since 2012
**Hamilton County EMA/Homeland Security Board – Member since 2010
**Hamilton County Land Reutilization Committee – Member of Board since 2011
**OKI Consortium of Governments – Member of Board since 2010
**Hamilton County COVID Defense Team – Member 2020/2021
**Ovarian Cancer Alliance of Greater Cincinnati – Member of Board since 2019
**HC Republican Party Executive Committee – Member since 2008
**HC Republican Party Township City and Village Committee Co-Chair since 2008
**Sycamore Township Planning and Zoning – Member for 5 years
**Sycamore Township Board of Zoning Appeals – Chairman of Board 6 years
**Hamilton County Health Executive Committee – Member for 8 years
Tom is a 1978 graduate of the University of Michigan, where he studied Political Science and Economics. He is the President of Marketmaster International LLC, an international marketing and sales company in the Specialty Steel and Specialty Steel parts business, which he founded in 1985.
Tom and his wife Dianne raised their three sons, Sean, Mike and Nick, in Sycamore Township. In his free time he enjoys playing golf and tennis.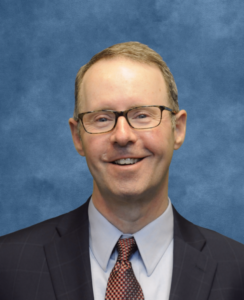 Tom James was elected as a Trustee of Sycamore Township in November 2019. He has lived here since 2001 and also practices law at a firm located within our borders. He and his wife Jill chose to move to Sycamore Township and raise their 4 kids here because they recognized this is the crown jewel of Greater Cincinnati communities — with great neighborhoods, great schools, and low taxes — and they've never regretted their choice.
Career-wise, he has been an attorney since 1992, practicing law in firm and corporate settings in Atlanta and Cincinnati, and he has also served in management and IT-related roles. Tom's work has given him the opportunity to visit many places across the United States and the world at large, allowing him to experience life in communities ranging from large cities to tiny rural areas, and giving him a great appreciation for the wonderful amenities we have here at home.
Tom had never run for public office before his successful 2019 campaign for Trustee, but he has a long history of serving his community. He's been involved in Scouting as a den leader and as a volunteer and leadership committee member. His other volunteer service includes working with seniors and at his church as a technical production volunteer and teacher. Before moving here, he served as Vice President and then President of a 180-home Homeowners Association in an Atlanta suburb.
He was inspired to run for Trustee out of a sense of civic duty and was motivated by these wise words of John Adams: "Public business, my son, must always be done by somebody. It will be done by somebody or other. If wise men decline it, others will not; if honest men refuse it, others will not."
Going forward, Tom looks forward to serving all of our residents without regard to their politics or privilege. He invites any residents and any other community stakeholders who have any concerns that the Township might be able to address to contact him about them, noting that: "I'm at your service."