The Sycamore Township Memorial Cemetery (formerly Mount Carmel Cemetery) is located on Kenwood Road, just south of the Township Administration building. The cemetery, and the Mount Carmel Baptist Church that once stood in the middle of it, were established in 1823 on an acre of land donated to the church by Adam Lee, a church member and trustee. Lee was an early settler of Sycamore Township who purchased the entire section , 640 acres, in 1797 from the original patent holder John Cleves Symmes (Hamilton County Deed Book B2:35).
Less than a year after the formation of the Mt. Carmel Baptist society, Adam Lee conveyed a one-acre parcel to the Trustees of the Mt. Carmel Baptist Church who were Andrew Hammel and John Ferris. On March 15, 1823 Lee stipulated in the indenture that if the one-acre parcel were not used as a "place of public worship, religious education or burying ground" the agreement of conveyance would be void.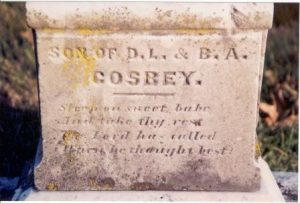 Evidence that the cemetery portion of Lee's gift was put into immediate effect is in the early marked burial of one of the founding members children. Cronymous Felter, a twelve year-old son of Matthias and Rebecca Felter dies on August 27, 1823 and was buried in the west central portion of the graveyard. His is the earliest marked grave in the cemetery. His mother Rebecca died in 1830 and was buried near him.
Both the church and the cemetery remained active at the site until the late 1930's when the congregation moved to a new church on Blue Ash Road. In 1941 the Board of Trustees of the Mt. Carmel Church Cemetery elected to transfer the title of the cemetery property and the responsibility for its maintenance to the Trustees of Sycamore Township. (Hamilton County Deed Book 1951:536)
Please CLICK HERE for more information about the Sycamore Township Memorial Cemetery.