Residents may request collection of yard and tree brush by Maintenance Department crews on an as needed basis for a fee of $50.00. All brush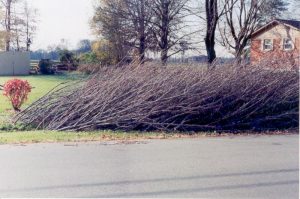 must be placed at the curb with all trimmed ends facing the same direction (towards the street) for quicker handling by the road crew.
***Residents must call 513-791-8447 to have a work order started for the brush pick up or simply fill out an online Service Request.
Fees will be billed to the property owner after the brush is cleared. To pay for this service online with a Visa or Mastercard, Click Here.
Sycamore Township offers a scheduled monthly Brush Chipping Program for residents providing them the opportunity to drop off tree and brush trimmings behind the Township Administration Building free of charge. Residents are asked to bring their brush and limbs to the rear of the Township Administration building at 8540 Kenwood Road where maintenance personnel will assist in the unloading and chipping of the material. This program normally runs the first Saturday of each month from 8:00 a.m. to 4:00 p.m. (*Moved to 2nd Saturday if 1st Saturday is over a holiday weekend) 
Remaining 2021 Dates:

Saturday, November 6
Saturday December 4
2022 Dates:
Saturday, April 2
Saturday, May 7
Saturday, June 4
Saturday, July 9 *2nd Saturday 
Saturday, August 6
Saturday, September 10 *2nd Saturday 
Saturday, October 1
Saturday, November 5
Saturday December 3
Between mid-October and mid-December, the Maintenance Department picks up leaves along the Township streets (no bagging required during this time). Leaves should be brought to the curb or to the berm of the road if no curb exists. Please make sure leaves are not placed in the ditch line as this will clog the storm sewer system. Please do not mix any other yard waste items in with the leaves (such as grass, twigs, or flowers). Crews service each street weekly, but during heavy volume periods, in the event of a snow/ice emergency, or due to equipment breakdown, it may take longer to complete a Township wide sweep. Residents may call our Maintenance Department at (513) 792-7257 to find out when their street was last serviced.
2021 curbside leaf collection is scheduled to be from October 18th to December 13th
"Storm Damage Condition" – applies only when officially declared by Maintenance Superintendent
Storm damage collection is a service Sycamore Township has provided for its residents for many years through the Maintenance Department. Sycamore Township Maintenance Superintendent, Tracy Kellums, must officially declare whether a "storm damage condition" has occurred. When "storm damage condition" has been declared, residents must call 791-8447 within two (2) working days after the storm to have the branches picked up at no charge or fill out an online Service Request. The storm damage should be placed at the curb within two (2) weeks of the storm. Please check the website home page for storm damage announcements.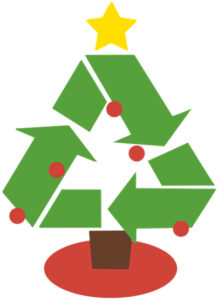 The Township will offer Christmas Tree chipping
at two drop off sites from 12/26/2021 – 01/17/2022.
Bechtold Park
4312 Sycamore Road
McDaniel Sports Complex
11797 Solzman Road